Looking through the some of the reviews I've done for this site already, it's pretty clear that I am a fan of much of Japanese director Hirokazu Kore-eda's work. So, it seems only natural for me to want to buy Arrow's three-film Kore-eda boxset Family Values, one of two Kore-eda boxsets commercially available in the UK. This review will look at the films included on that boxset, as well as any included extras. Is it worth buying?
Films
The three films included on the boxset are I Wish (2011), Like Father, Like Son (2013), and After the Storm (2016). The films are linked through their focus on unconventional family unit (comparative to the "regular" nuclear family), and attention on interpersonal familial relationships, and the quiet drama that arises from that. These things, of course, mark much of Kore-eda's other work as well, so if you've enjoyed any of his other films in the past, there is something for you to dig into here. Conversely, if you enjoy the films on this set, you would enjoy most of his other work too!
I Wish (2011)
I have written about I Wish before, on my 2018 list, so I'll rework what I said about it then, here:
In I Wish, we follow two young brothers with separated parents, each brother living with a different parent and in different cities. The older brother, twelve-year-old Koichi, lives with his mother and grandparents. The younger, Ryunosuke, lives with his father.
At school, Koichi hears a rumour that the first time two bullet trains pass each other it generates a mysterious energy, and if you are there to witness it you are able to wish for whatever your heart desires. Koichi hatches a plan to go to the place where two trains will intersect on a particular date and meet his brother Ryunosuke there to wish for their parents to get back together, and each brother brings some friends on the journey with them, all with wishes of their own.
The film is nostalgic, whimsical and incredibly sweet, and the child actors all engaging and real in their own ways. It all feels very wistful and heartfelt, with the rich emotion of familial connections explored not only through this grand wish quest, but also through the smallest of interactions like baking and music. An emotional film which is sure to make you look fondly back on your own childhood friends and adventures, and long for the capacity to believe in wishes again yourself. A masterful sequence of associative editing near the end of the film is particularly affecting, and only adds to the film as a whole.
Like Father, Like Son (2013)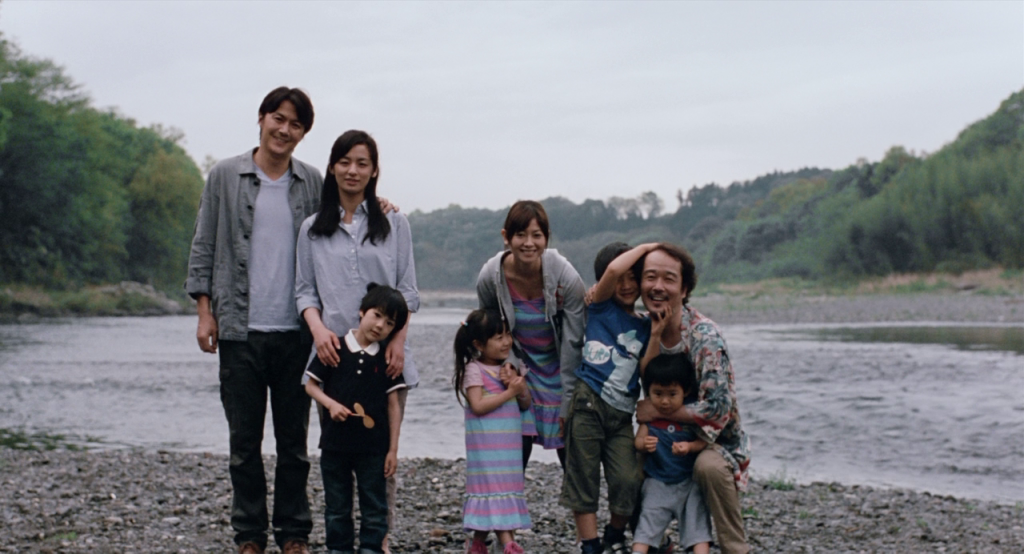 In Like Father, Like Son, an upper-middle class couple discover that the child they've been looking after for the past 6 years, Keita, is not their biological son. The child was switched with another in the hospital shortly after their birth, and their biological child, Ryusei, has been living with a working class family. The two families eventually meet after this comes to light, and a switch of the two boys is proposed by the hospital administration. The two sets of parents have to figure out how how to deal with this complex and difficult situation: What is most important, simple blood ties, or the connections they've already built over the past six years?
The film contains many Kore-eda hallmarks: inter-generational differences of opinion, unorthodox family units, failures on the part of a public body, class dynamics, and of course the actress Kirin Kiki, who appears in many of Kore-eda's films. A commercial success in Japan and critical success on the festival circuit, Like Father, Like Son is up there with Kore-eda's best, and well worth watching. I made a video which examines editing and framing choices in a short scene from the film, which can be found here.
After the Storm (2016)
After the Storm is the story of Ryota (Hiroshi Abe), a once-lauded writer now working as a private detective and trying to deal with divorce, his father's death, and develop his relationship with his young son. A typhoon traps Ryota, his ex-wife and son at his elderly mother's apartment for the night, and they must wait out the storm together. Unresolved tensions between Ryota and his ex-wife move closer towards amicability and, as is the norm for Kore-eda, quiet family drama plays out as the family interact and are given the chance to repair broken bonds.
Probably my least favourite in this set, but still well-worth watching, with natural and believable performances.
Extras
Each disk of this set is packed full of extras, from documentaries to wrap footage to trailers and music videos. The easiest way to show the depth and breadth of what is on offer is just to go through it all, elaborating where necessary, and with run-times for each special feature listed (other than the trailers).
I Wish:
Introduction by Tony Rayns: Introduction to the film by film historian Tony Rayns (23 minutes)
Family Ties Part 1: Part 1 of an interview between Hirokazu Kore-eda and film writer Jasper Sharp (20 minutes)
The Making of I Wish: Documentary feature about the making of the film (43 minutes)
What Miracle Would You Wish For?: A series of interviews with cast and crew about their experience working on the film, starting with what each would wish for if they had the chance (41 minutes)
Soundtrack Featurette: An interview between Hirokazu Kore-eda and Shigeru Kishida from the music group Quruli, who created the film's theme song (23 minutes)
Theme Song: Music video for the theme song (7 minutes)
Roll Numbers: A compilation of clapper takes featuring the cast and crew filming I Wish, set to the film's theme song (5 minutes)
Trailers: Teaser Trailer, Theatrical Trailer and TV Trailers for the film
Like Father, Like Son:
Family Ties Part 2: Part 2 of an interview between Hirokazu Kore-eda and film writer Jasper Sharp (12 minutes)
Nature vs. Nurture: Film historian Alexander Jacoby discussing Like Father, Like Son (19 minutes)
Selected Scene Commentary: A visual commentary featuring Hirokazu Kore-eda with Masaharu Fukuyama and Lily Franky, who played the two fathers in the film. The trio discuss a number of scenes, their meaning and the experience of shooting them (68 minutes)
Like Father, Like Son in Cannes: Footage from the European premiere of Like Father, Like Son at the 2013 Cannes Film Festival, and a Q&A with Masaharu Fukuyama (23 minutes)
Japanese Premiere Q&A: A discussion with the cast following the Japanese premiere of the film in September 2013 (13 minutes)
In Conversation with Kore-eda: A "teach-in" between the Hirokazu Kore-eda, Masaharu Fukuyama and an audience after a film screening in Japan. Essentially the pair answer questions and discuss the film (12 minutes)
Wrap Footage: Quite self-explanatory, footage from the wrap (final day of shooting) for a number of the film's actors (6 minutes)
Trailers: Five different trailers for the film
After the Storm:
Family Ties Part 3: Part 3 of an interview between Hirokazu Kore-eda and film writer Jasper Sharp (16 minutes)
The Making of After the Storm: A documentary following the making of the film (73 minutes)
Roll Numbers: A collection of clapper takes featuring the film's cast and crew during filming, set to the film's theme song (6 minutes)
The Making of the Theme Song Music Video (8 minutes)
Theatrical Trailer
Clearly, over the three disks, there is a lot to sink your teeth into. If you are curious about Kore-eda's process, attitude and methods of film-making (and I am!) then you won't be disappointed by what's on offer here. My personal favourite is I Wish, which I think has the best in terms of variety and quality, but each and every disk has something worthwhile on it. I would love to see something similar for a release of Our Little Sister! The Blu Ray also comes with a reversible cover, if that's your thing, so you have two choices for how you want the case to look. Sadly, I wasn't able to get the original, big boxset before it went out of print which also came with a collector's book, but I'm sure there is plenty of interesting writing to dig into there as well, if the opportunity ever presents itself.
Verdict
This is a boxset I would heartily recommend to any fans of Kore-eda, family dramas, or Japanese cinema in general. Especially given its price, available for less than £20.
Scores
I Wish: 10/10
Like Father, Like Son: 9/10
After the Storm: 7/10
Extras: 9/10
Interesting in buying this set? It's available here!