"Did you know this theatre is haunted?"
The first line spoken by a character in the film, nearly 45 minutes into its running time, perfectly encapsulates the feeling of Goodbye, Dragon Inn.
It's the final night of business for an old-fashioned Taipei cinema, and 1967 wuxia classic Dragon Inn plays in a cavernous theatre to a sparse and diminishing audience. The film follows a variety of characters, both film-goers and staff, as they intersect (briefly) and inhabit the physical space of the cinema itself. A woman with a limp works at the ticket office, making her way around decrepit but perhaps-once-grand surroundings as she cleans, checks on the theatre, and looks for the projectionist. A Japanese tourist looks for connection, trying many seats, briefly getting (physically) close to some of the other patrons. Various film-goers watch the film in silence, or accompanied only by the sound of their chosen snacks. We get to know the space, wordlessly but nonetheless intimately.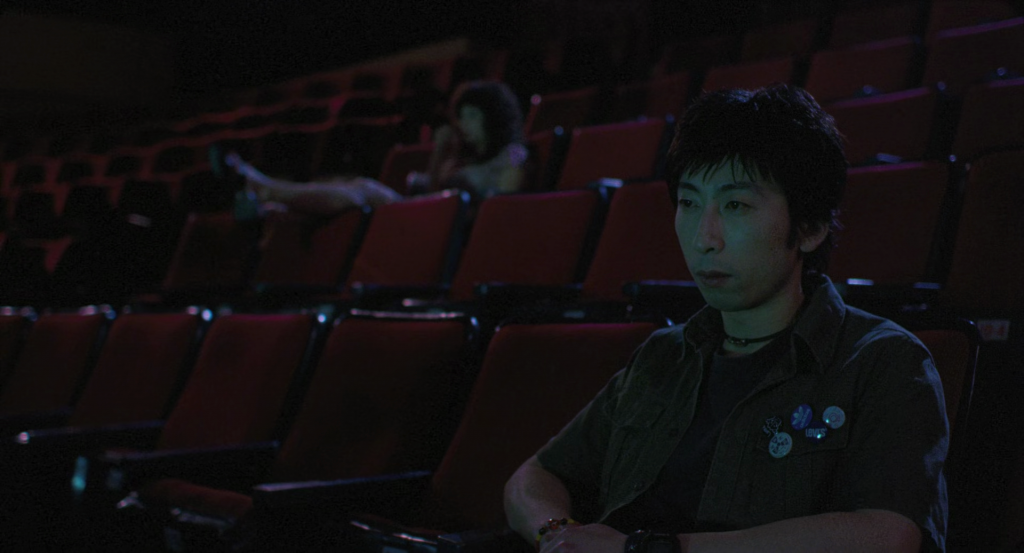 The theatre is not haunted by spooky ghouls and goblins, but by ghosts of longing. Longing for the past and better days, longing for connection, longing to be remembered, visible and celebrated.
This film is incredibly slow and deliberate, with many static wide and ultra-wide long takes. For the most part, the only movement comes from the film's characters, and that is often slow and deliberate as well. There is very little dialogue, very little movement or action, very little narrative, but regardless, an immense weight and depth of feeling. There's something incredibly absorbing about the film, and I think anyone who has a love for the act of film-going, of the physical space of a cinema, will find something to celebrate in this film.
The song that Tsai Ming-liang chooses to end the film with, Can't Let Go (described as "an oldie from the 60s"), perhaps says it best. A wide shot of a deserted, late-night Taipei street, being lashed by heavy rainfall. The female lead walks slowly into and eventually out of frame, clutching an umbrella. The music begins, the sound of the rain fades:
"I remember, under the moon,
I remember, under the flowers,
So much of the past lingers in my heart,
Half is bitter, half is sweet.
Year after year, I can't let go."
I'll remember with longing forever…
Cut to black.
8/10