I have really enjoyed some of Jackie Chan's Hong Kong action stuff in the past, and also really liked 88 Films recent release of The Young Master, so when I heard about this Armour of God release I was excited. It's a Jackie Chan film I haven't seen before, and it sounded like it'd be a good one: Jackie Chan in an Indiana Jones type role, which had the potential to be a lot of fun. I'll get more into what I thought of both the film and the set itself below:
Armour of God: The Plot
Armour of God sees Jackie Chan playing a character called Asian Hawk, an adventurer in the mould of Indiana Jones looking to discover and claim ancient artefacts, except Asian Hawk is more interested in selling them on for a lot of money than seeing them in any museum. Before becoming a devil-may-care adventurer, Asian Hawk was known simply as Jackie, and performed in a pop band called The Losers with friends Alan (Alan Tam) and Lorelei (Rosamund Kwan). The band has broken up, Alan is a successful solo singer, Lorelei is Alan's girlfriend and a distinguished fashion designer, and Jackie is deep into his new career as Asian Hawk.
However, Lorelei ends up kidnapped by a mysterious cult, who request that Jackie bring them the missing pieces of the Armour of God (a Biblical suit of armour made up of five distinct pieces, of which the cult currently has two) as ransom for her release. Thus begins the adventure to rescue Lorelei and defeat the nefarious cult.
Armour of God: Film Review
I'm sad to say I found Armour of God quite disappointing.
The action in Armour of God is excellent, there just isn't anywhere near enough of it, and the connective plot tissue lacks any of the charm of something like Police Story or The Legend of the Drunken Master. As a result, the film drags fairly heavily during the plot-centric sequences, and makes the film a fairly turgid watch overall.
Still, I am glad I saw that car chase, it was great! There is also the kind of morbid curiosity factor as well, since this is the film where Jackie came closest to death, after a routine stunt went wrong and he ended up cracking his skull following a fall. They actually show it in the outtakes in the film's credits too, but thankfully it's not too graphic!
Armour of God: Deluxe Collector's Edition and Extras
Fortunately, even if I didn't enjoy the film quite as much as I hoped, there is an absolute wealth of extras and materials to delve into on the boxset carefully prepared by 88 Films. The boxset itself contains:
A two-disk Blu Ray case with reversible cover
A poster (double sided)
An 88-page bound booklet containing essays and information about the film
Six replica lobby post-cards (found within the Blu Ray case)
All kept within a rigid cardboard box with handsome painted artwork on the cover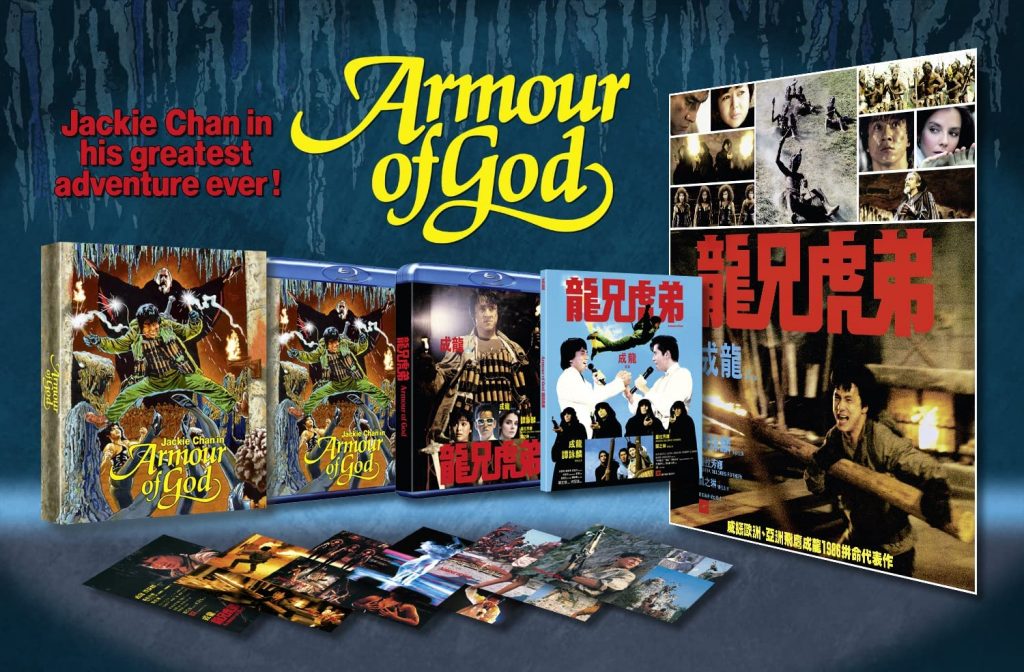 The presentation of this is great, so if you're already a fan of Jackie Chan or Hong Kong action cinema I imagine you'll get quite a lot out of this, and out of the information within the booklet. The reason there are two disks, is that there are two cuts of the film within this set: The original Hong Kong theatrical cut (Disk 1, 98 minutes) and International Cut (Disk 2, 88 minutes). Disk 2 just has the International Cut on it, disk 1 is where all the juicy extras lie, and it's absolutely jam-packed. It contains eight different audio options (four in Cantonese, two English dubs, and two new English/Cantonese hybrid dubs), three different audio commentaries (one from Asian cinema expert Frank Djeng, one from Mike Reeder (HK-based film producer) and Arne Venema (film-maker), and one from podcasters Eastern Film Fans Forever), as well as:
The Art of Action on Armour of God (31 minutes) : Actors and martial artists Scott Adkins and Matt Routledge discuss the action of Armour of God while watching through. A little like a Zoom call, so I expect it's been recorded fairly recently!
Celebrity Talk Show (58 minutes): An episode of a Hong Kong talk show featuring an interview with Jackie Chan
Rise of the Phoenix: Radek Sienski on Armour of God (21 minutes): BAFTA nominated film editor discusses the editing of Armour of God
Locations: Then and Now (6 minutes): A collection of photographs comparing the locations as they were in the film with how they are now ("now" being 2018, when the photos were taken)
Jackie Chan on VHS: The VPD Years With Steve Lawson (8 minutes): Discussing memories of watching Jackie Chan films on VHS
Interview with Jackie Chan (4 minutes)
Interview with Willie Chan (4 minutes)
Interview with Editor Peter Cheung (5 minutes)
Japanese Release Outtakes (4 minutes)
High Upon High Tribute Music Video (6 minutes) and Behind the Scenes (4 minutes) : 30th anniversary music video shot at original locations from Armour of God. Also has a split screen option to compare the music video with the film (2 minutes)
Trailers: Cantonese trailer (4 minutes), Mandarin trailer (4 minutes), Japanese trailer (1 minute), English trailer (2 minutes) and 88 Films Blu-ray Disk Trailer (2 minutes).
As you can see, there is A LOT to be getting on with, and in many different directions as well. It's the kind of special feature driven treatment of films that you love to see when it comes to limited edition Blu Ray releases. Contrast it with the Bong Joon Ho set that was released earlier this year and you'll see how much better this one is in that regard.
Armour of God: Final Score and Conclusions
If you have seen Armour of God before and enjoyed it, then you simply need to own this set. If you're a fan of Jackie Chan and are curious, and like special features, I would also heartily recommend buying this. However, if you're not fussed about special features, I would say to steer clear unless you are a Jackie Chan completist! As I said, I wasn't the biggest fan of the film itself, but the special features more than made up for it, and the action, as always, was great.
Film: 5/10
Sound: 8/10 (lots of options!)
Image 7/10 (restoration is very good, but cinematography isn't especially impressive)
Extras: 9/10 (an incredible amount of content)
Overall: 7/10 (Just for me, personally. This would improve drastically if you're a fan of the film itself)
The boxset is available to buy here: https://amzn.to/316iIjb